Scouting Report: DT Siaki Ika
Try as we might, the Buffalo Bills can't simply will themselves into being a defensive powerhouse. They need the tools to succeed, and they're in dire need of that big-bodied space eater of a defensive tackle. Could they find one in the 2023 NFL Draft? That's where Baylor's Siaki Ika comes in.
Ika is an expected Day Two draft pick, and for good reason. It's rare to see a player of his size move the way he does, and his skillset is one the Buffalo Bills are lacking in. At age 22, he's a four-year contributor who's succeeded in two separate college defenses: Baylor and LSU.
So, let's meet Siaki Ika. Here's how he measures out.
Measurements
Height: 6' 3''
Weight: 335 lbs
Arms: 32 3/8''
Hands: 10 1/4''
Strengths
Siaki Ika has many strengths, with strength itself being one of them. He's an absurdly powerful hitter right off the snap, and explosive at initial contact. It leads to early penetration into the pocket, as he disrupts even the most well-schemed of plays from the get-go. He's a great athlete for his size, and it shows.
When asked to sit back and maintain gap integrity, he excels. He fills the running lanes with ease, and can't be dug out by any lineman one-on-one. If a defense has to rely on consistently using two or more blockers against him, the line will lose integrity so pass-rushers and linebackers can hit home.
Part of the reason for his sudden starts and instant application of force is his hand play. He consistently get into the hands of would-be blockers and breaks them up, giving him early leverage and positioning. The NFL's pedigree for linemen is far superior to college, but Ika should be able to maintain this advantage in the pros.
Weaknesses
There are, of course, downsides. He wasn't an ideal pass-rusher through his early starts, and saw a further dip in sack production in 2022. Though he frequently breaks up the pocket and demolishes running lanes, he fails to execute tackles on the running backs or bring down the QB solo. Because of his skillset, he isn't an every down defensive tackle, and may need to come off the field for obvious passing downs.
As a rusher, he can come out of the break too high, losing the leverage his hand play and burst may have given him. Ika could find himself on his back in these situations, and frequently loses the ball the moment he loses leverage.
Whilst he's surprisingly athletic, he isn't the most agile prospect. Siaki Ika suffers from poor change of direction, meaning he has a hard time getting to elusive runners. It's an area he's reportedly working on, but he'll need to stick with it to make plays solo as a professional.
Why Should the Buffalo Bills Select Siaki Ika?
The Bills don't have much in the way of space-eaters. In fact, not only are they missing space-eaters, they're missing defensive tackles altogether. If they don't pick up a defensive tackle this offseason, or extend one, they will have zero DTs under contract after 2024. The Buffalo Bills have done an excellent job of going after their needs in advance and preventing holes from appearing in the roster; they'll need to do it again here.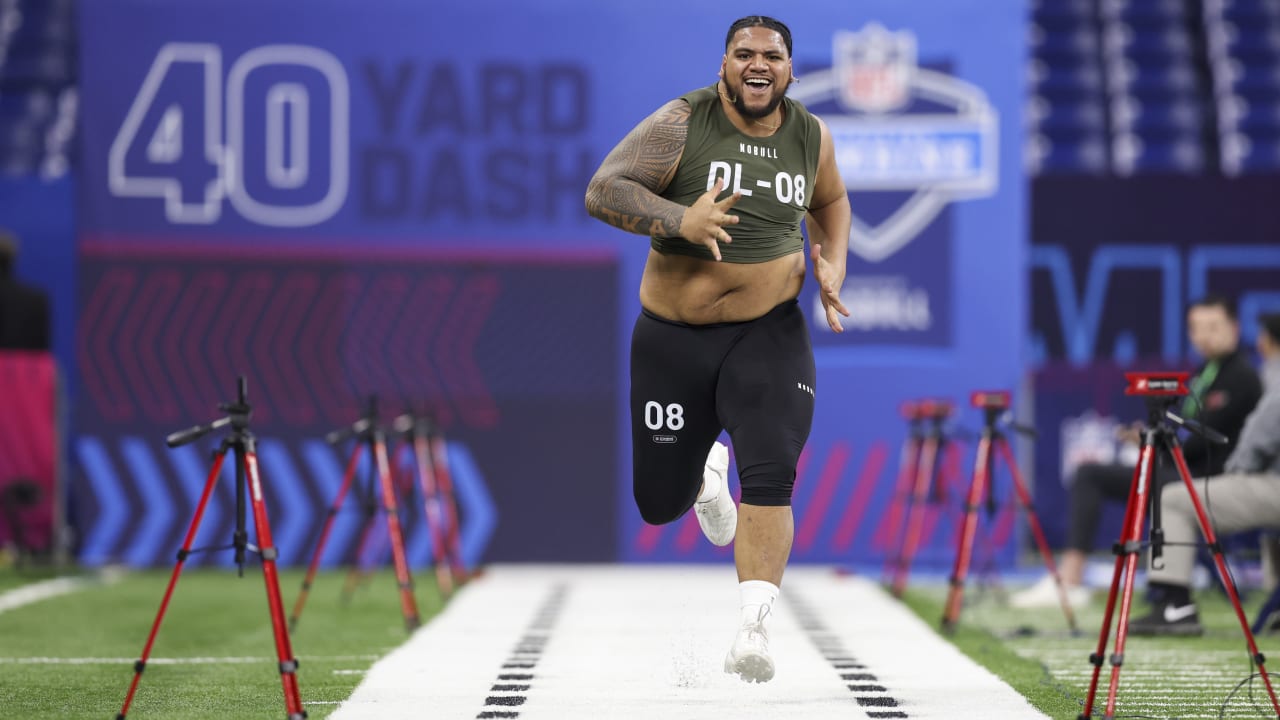 Ed Oliver, Greg Rousseau, Von Miller, and others have all played their best football when someone else is able to eat the double team and let them go one-on-one with a lineman. That's only part of the value that Siaki Ika brings to the group.
With Sean McDermott calling the defense in 2023, he may be looking for guys he knows how to work with. As a defensive coordinator in Carolina, McDermott got to work with a prime Star Lotulelei, amongst others, and Ika can bring that skillset back to this team. If we want to dominate the line of scrimmage this season, we need to give McDermott the tools to do so. Siaki Ika is that tool.
Featured Image: Jerome Miron/USA TODAY Sports