Week 3 Power Rankings: Where Are The Buffalo Bills?
On a good day, the Buffalo Bills can turn even the most proficient of NFL offenses into cinder blocks. Eric Bieniemy has got the best of Buffalo before, but not this week, as his unit couldn't manage more than one lowly field goal to avoid a shutout. After such a shellacking, how do the Bills fit in the media's Week 3 Power Rankings? Let's find out.
NFL.com: 5th
Last Week: 6th
Author: Eric Edholm
Though it seemed to get a bit lost in the Sunday shuffle (perhaps because people hadn't respected what the Commanders accomplished earlier this season), the Bills put together a really impressive statement performance, outclassing previously unbeaten Washington for four quarters. Buffalo's defensive line overwhelmed the Commanders' offensive line, generating pressure on nearly two-thirds of pass plays that didn't feature a blitz. The Bills' offensive line was equally dominant, giving Josh Allen mostly clean pockets. But the biggest development might have been what Allen did as a scrambler: taking slides and protecting the ball better. If the Bills play like this in all three phases, they are really tough to beat. Week 1 feels like a distant memory.
theScore: 5th
Last Week: 7th
Author: theScore Staff
Pass rush was an area of concern for the Bills in the offseason with Von Miller still sidelined due to injury. However, edge rusher Leonard Floyd has been solid since joining the team in June, having recorded a team-high 3.5 sacks.
Bleacher Report: 5th
Last Week: 6th
Authors: NFL Staff
The Buffalo Bills were stunned by the Zach Wilson-led New York Jets in Week 1. Since that defeat, the Bills have looked more and more like the AFC heavyweight we expected them to be in 2023.
They certainly did in the nation's capital Sunday.
The Bills were efficient offensively, with quarterback Josh Allen throwing for 218 yards and a score and Buffalo averaging over five yards a carry. But the true stars in Week 3 were a Bills defense that intercepted Commanders quarterback Sam Howell four times and sacked him a whopping nine times.
Edge-rusher A.J. Epenesa, who had a sack and returned one of those interceptions 32 yards for a touchdown, lauded the defense's effort while addressing the media after the game.
"Our big thing was just attack, attack, attack, pressure, be physical — make them uncomfortable," Epenesa said. "That's our comfort zone. When we're flying around and we're playing aggressive like that, that's just us as an identity and that's what we're trying to establish and keep that going throughout the entire season."
There are still things to clean up—Allen threw his fourth interception of the season in the blowout.
But when the Bills play like this, they are more than capable of beating any team in the NFL—handily.
ESPN: 5th
Last Week: 7th
Author: ESPN Staff
Offensive efficiency: 59.5 (7th)
Biggest issue on offense: First-down production
The Bills' offense has looked solid over the last two games, but a theme has emerged early — Buffalo makes things harder on early downs. Currently ranked 28th (4.3) in yards per play on first down, the average per play jumps significantly on second (6.7) and on third downs (6.6). The Bills have completed back-to-back lopsided wins, so it hasn't been a game-altering issue, but minimizing long situations on later downs would help the efficiency of the offense. – Alaina Getzenberg
The Athletic: 5th
Last Week: 10th
Author: Josh Kendall
QB confidence rating: 8
All is forgiven after Josh Allen's Week 1 meltdown. In the last two weeks, he has thrown four touchdown passes and only one interception and has an NFL-best off-target percentage of 1.4 percent. Plus, he's still making plays like this:
NBC Sports: 5th
Last Week: 7th
Author: Josh Schrock
The Bills finally looked like the Bills in Week 3, delivering a much-needed whooping to the Commanders.
CBS Sports: 5th
Last Week: 7th
Author: Pete Prisco
After losing in Week 1, they are rolling now. The defense came up big against Washington with five takeaways and nine sacks. Now they have to face Miami's explosive offense. Good luck.
Fox Sports: 5th
Last Week: 7th
Author: David Helman
I love how quickly the narrative can shift in this week-to-week league. The Bills had one of the most embarrassing losses of Week 1, and 14 days later they're a well-oiled machine. The defense has looked ferocious in two straight outings, and these guys have outscored the last two opponents, 75-13. Sunday's showdown with Miami will be must-see TV.
Yahoo Sports: 4th
Last Week: 5th
Author: Frank Schwab
Here's the difference between a good and bad franchise: The Bears signed LB Tremaine Edmunds to a four-year, $72 million deal. Edmunds was good for the Bills but not great. He plays an increasingly devalued position, but the Bears apparently wanted to appease their fans who speak wistfully about Dick Butkus, Mike Singletary and Brian Urlacher. Meanwhile, the Bills put second-year player Terrel Bernard in Edmunds' old spot, and Bernard has been excellent. On Sunday, he became the first linebacker with two or more sacks, an interception and a fumble recovery in a game since (coincidentally) Urlacher in 2007. The Bears still have one of the worst defenses in the NFL.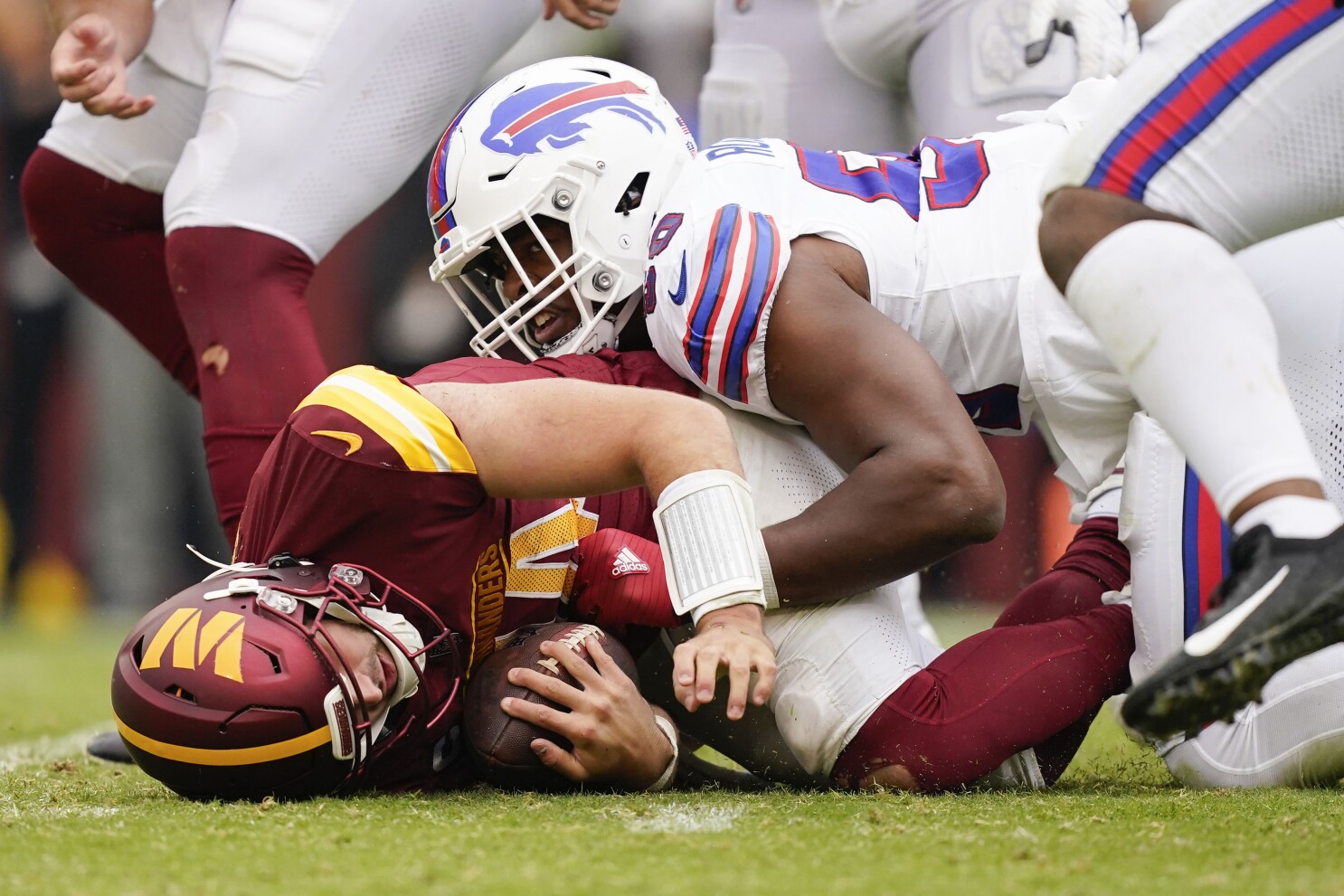 USA Today: 5th
Last Week: 5th
Author: Nate Davis
They've won their past two games by an aggregate 75-13 score. Impressive, if merely a day's work in South Florida. However the Dolphins are headed to Buffalo, where they've lost seven straight and 11 of 12.
Sporting News: 5th
Last Week: 6th
Author: Vinnie Iyer
The Bills have gotten right fast with Josh Allen and the dangerous downfield passing game by ripping the Raiders and Commanders. Their defense needed a stellar shutdown performance and that also came in Washington. Giddy up for Buffalo hosting Miami in an epic AFC East clash in Week 4.
WalterFootball.com: 3rd
Last Week: 3rd
Author: Walter Cherepinsky
A 37-3 result might say that the Bills had an offensive explosion. Instead, it was the defense that dominated. Buffalo sacked Sam Howell nine times and picked him off on four occasions!
The Bills are first in net EPA, ranking third in offense and second in defense. I just don't know if I trust Josh Allen not to make the same yolo throws he committed versus the Jets.
Sportsnaut: 5th
Last Week: 7th
Author: Matt Johnson
Since repeatedly shooting themselves in the foot in the Week 1 loss, the Buffalo Bills have played perfect football. Without Von Miller, Buffalo's defense is generating takeaways at an eye-popping rate and Josh Allen is playing like an MVP once again. Of course, the real test is next Sunday against the Miami Dolphins. Winner is No. 1 in our NFL power rankings.
Buffalo Bills Power Rankings Summary
Buffalo is getting plenty of much-deserved respect, but they have hills to climb to regain the top spot they owned for so much of 2022. The first of those hills is coming up quickly, as we host the Miami Dolphins (3-0) on Sunday. Can Buffalo take back control of the AFC East this weekend, or do they fall to two and a half games back from Miami, taking the rocky road to a division title?
| Sample Size | Third | Fourth | Fifth | Average |
| --- | --- | --- | --- | --- |
| 13 | 1 | 1 | 11 | 5th |
Check out last week's rankings, and come back next week for a fresh round of Power Rankings after the Buffalo Bills host their rivals: The Miami Dolphins. Have a "Power Ranking" that you think I should include? Reach out to @IestynTHarris on Twitter to let me know!
Featured Image Credit: Andrew Harnik / Associated Press