The Underhill Report: Outrageous Wild Card Weekend Predictions
Playoffs?! You kidding me? It's the second appearance in the postseason in three years for the Buffalo Bills. How about that? It's cause for celebration, certainly.
I'm incredibly proud of this organization. Just think about how far we've come in just three short years when Sean McDermott and Brandon Beane were introduced as the leaders of the franchise.
It quickly became clear they were trying to establish a certain culture in the locker room. Letting go of players they felt didn't fit the system they were building, cutting loose from unruly contracts (i.e. Marcell Dareus), and drafting players with a tough-nosed, team-friendly reputation (ex: Tremaine Edmunds).
Jumping on the McBeane bandwagon was easy after breaking the 17-year playoff drought in 2017, but recognize at that time they had barely started their overhaul of the organization. Reaching the postseason with Tyrod Taylor and the rag-tag group of players on Buffalo's roster then was nothing short of a miracle. Let's not understate that.
This year's postseason berth is different. McDermott and Beane are three years into their mission and the face of the Bills football team is completely different, with the nucleus of playmakers and leaders stronger than ever.
Josh Allen isn't just a talented quarterback. He's a team-oriented, unselfish leader. The same could be said of Tremaine Edmunds, Lorenzo Alexander, Micah Hyde, Jordan Poyer, and Frank Gore among others. Are you sensing a theme yet?
Bills Mafia, respect the process because the process has officially arrived. So I don't want to hear about "Well… hopefully we'll win one playoff game" or "I can't wait until next year when we'll be Super Bowl contenders".
No. Cut that s%$t out. We were one play away from beating both the Patriots and Ravens (well…we would've tied it up). With the group of men in our locker room, we can win the dag-gum Super Bowl.
Now that's off my chest, so let's get to my bold and outrageous predictions for this Saturday in Houston on Wild Card Weekend:
Sean McDermott makes sacrament to the Football Gods, offers up own eyesight in exchange for a healthy Levi Wallace.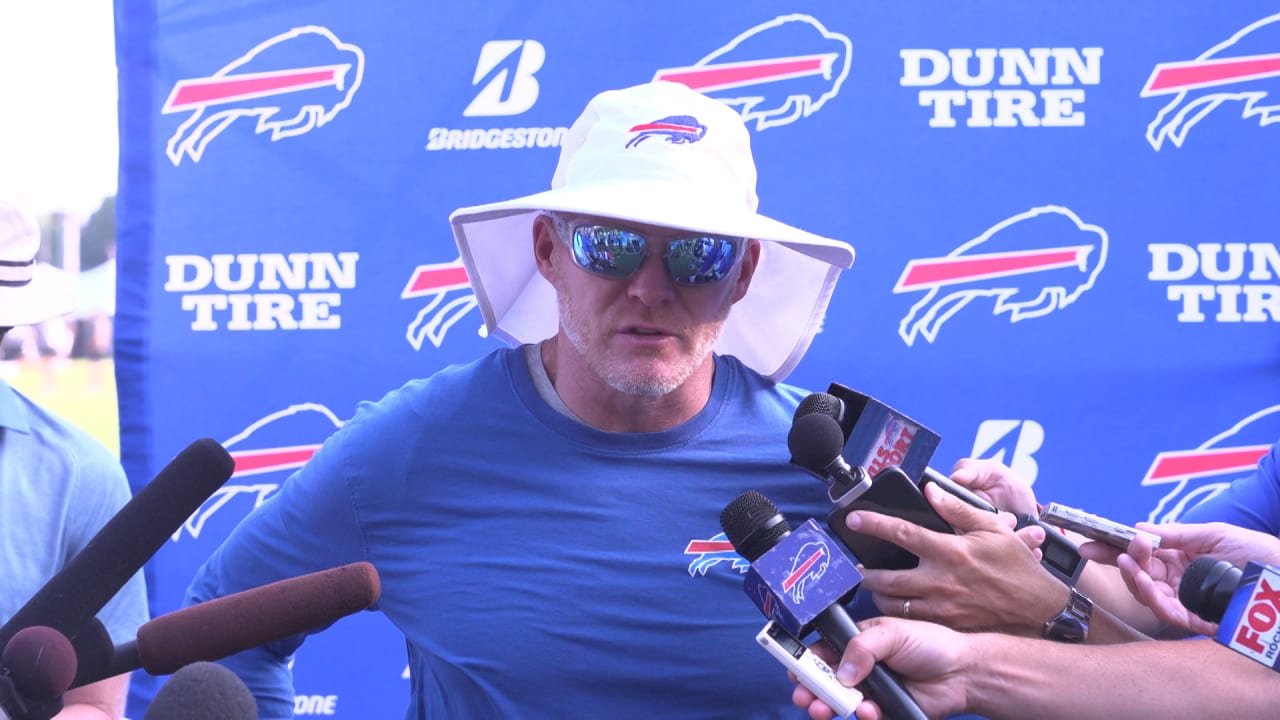 When Levi Wallace hit the turf on a week 17 interception of Sam Darnold, we all collectively held our breath. The awkward landing was diagnosed as an ankle sprain and Levi's availability this week is still up in the air. After sitting out practice Tuesday, Wallace was limited in Wednesday's practice.
So he's making progress but it might not be enough for him to see the field in Houston. So what would a players-coach like Sean McDermott do? No sacrifice is too large for his football team.
Don't be fooled by the reflective glasses he'll be sporting in Houston. It's because he's blind.
Booger McFarland spends the majority of broadcast explaining football's down and distance system.
There is no one more hated in sports broadcasting than the man called Booger. I honestly believe we hate him so much that we really love him deep down. Monday Night Football wouldn't be the same without his boneheaded commentary.
"Tess! Tess! Tess! The Bills realize that if they score more points than the Texans they can win this game!"
I think I've figured Booger out though. His brain must reset every 24 hours. He has to reteach himself the game of football every day. Every Monday night he goes into the broadcast with the preparation of a toddler ready to recite the Gettysburg address.
It's just not going to go well and everyone knows it. Just close your eyes and imagine…
"Tess, because it's first and ten Josh Allen and the Buffalo Bills have four plays to gain ten yards. If they can't do that they give the ball back to the Texans with a chance to score."
LSU head coach Ed Orgeron makes an appearance at Bills game, becomes official Bills mascot.
Coach Orgeron is a caricature of a football coach come to life. No one says Louisiana cajun toughness more than Coach O. He is a gift to us divinely created by the football gods.
When I saw this video drop on the Bills official Instagram I lost my damn mind.
How can you not smile? Forget Josh Allen's selfie, put this video on loop in the Albright-Knox museum, please.
So I'm proposing we get rid of Billy Buffalo. Make a giant Ed Orgeron mascot costume. Geaux Bills. Geaux Tigers.
Bill O'Brien's butt-chin gets bigger as the game goes on
Never hire a coach with a butt-chin: bad optics, looks stupid, and shows weakness. You need a coach with a strong jawline and protruding chin. THAT inspires confidence in your football team. Bills by 30.
NRG Stadium closes roof to increase crowd noise, decision backfires fueling Josh Allen to more touchdown passes
We've learned a few things this season about Josh Allen. One of which is he thrives under pressure and the bright lights. Primetime Thanksgiving game in JerryWorld? Allen completed 79% of his passes, the highest of his career, and led Buffalo to victory. How about the first Sunday Night Football game for Buffalo in over a decade? Allen orchestrated a game-winning fourth-quarter drive highlighted by a deep completion to John Brown seconds after Pittsburgh blasted their signature Renegade pump-up song.
Even in week 16 at Foxboro where Allen struggled at times, he still managed to complete some of the prettiest deep balls of his career and kept Buffalo in the game until the final minutes.
The bottom-line is a raucous crowd won't phase Allen, it will motivate him.
Duke Williams catches the game-winning touchdown
Oh, how sweet it would be. Duke Williams, a man kept in the doghouse nearly all season long, relegated to the inactive list almost every week, catching the game-winning pass in Houston to send the Bills to the divisional round.
We keep predicting and hoping Duke sees the field more often, but it hasn't come to fruition. He seems to have the talent. Minus a drop or two against the Jets, Williams put on a show totaling over 100 receiving yards. What will it take for Duke to get some snaps in a meaningful football game? We're not saying he should replace John Brown in the lineup, but I think he should get at least 10-15 snaps a game. Put him out there and see what happens.
Could Brian Daboll be saving him for this moment?