The Underhill Report: Outrageous Week 12 Predictions
What a win Bills Mafia! An awesome performance from Josh Allen and a great day play-calling from Brian Daboll! So, what have we learned? Is the offense fixed? Or should we temper excitement because this is after all the Miami Dolphins? I tend to favor the former conclusion.
Granted, Miami has done everything in their power to tank for Tua Tagovailoa. However, Brian Flores has recently gotten his team to rally behind him, culminating in two straight wins over the Jets and Colts. The Phins proved they aren't just a punchline this season.
Buffalo took care of business handily as they should have. They also won in a way we haven't seen yet this season. The Bills were actually carried by Josh Allen and the offense instead of the defensive unit. I have to admit, I didn't believe we'd see that this year.
With expectations once again high, what should we expect as the Bills look ahead towards Denver? Without further ado, here are my outrageous predictions for this Sunday that will most definitely all come true.
Brian Daboll's mustache does the play-calling
What was the secret to the Bills sudden offensive success last Sunday in South Beach? Look no further than our OC's new facial hair. Daboll was sporting the stache upon entrance to the Miami facility, and you have to believe it played a pivotal role in Buffalo's blowout victory. Now I'm not too superstitious when it comes to this stuff, but you can't deny the correlation.
One game with the mustache and one win. That's a perfect record. In fact, what are the odds the mustache has a mind of its own, softly speaking creative offensive concepts into Daboll's head? I'll let twitter and the internet run with that one.
Smokey Brown catches three touchdowns on the afternoon
John Brown had a career day last week against the Phins, hauling in nine catches for 137 yards and two touchdowns. So why should he regress? Brown just had his first multiple TD game as a pro, and I think he's bound for another. He'll need a trio of endzone celebrations this time.
Jordan Phillips summons the football gods with signature big double arm sweep
There are some things you can count on every week when you tune in to the Bills game: shots of Sean McDermott clapping, Josh Allen overthrowing the long ball by 10-15 yards, and Jordan Phillips bringing the crowd to its feet before every big play only the way he can.
Actually, you know what? I think I just created a fun Bills drinking game. Take a shot each time you see one of those three things happen on the CBS broadcast this weekend.
Josh Allen cements himself as alpha-Allen over beta-Brandon Allen
What's with this run on quarterback Allens in the NFL? Josh Allen, Kyle Allen, Brandon Allen, there's too many to keep track of. I for one am sick of it. My tiny brain cannot handle this string of same-last-name QBs. There must be a purge, and it will be led by the one true Allen, our savior Joshua.
There can only be one.
Matt Milano gets endorsement deal with the famous Pepperidge Farm cookies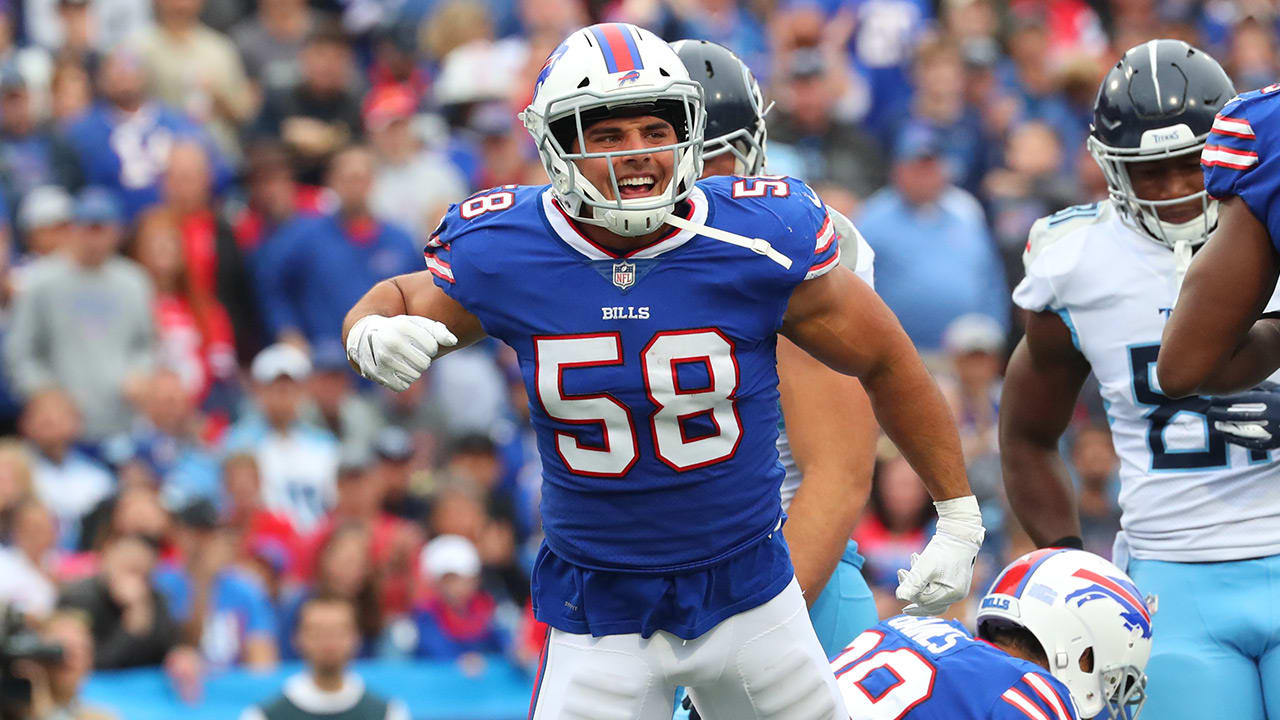 When is Matt Milano going to cash in on this golden opportunity? It's not a question of if, it's a question of when. He was made to promote the amazing chocolate-filled cookie goodness.
Once his image is plastered across the front of every Milano cookie package in America, I just might buy their entire stock.
John Elway starts kicking himself in the luxury box over not drafting Joshy
It's no secret John Elway has done a horrible job managing the quarterback room in Denver. Just think of the names that have gone through the rotating door since Peyton Manning's retirement: Brock Osweiler, Paxton Lynch, Trevor Siemian, Mark Sanchez, Case Keenum, Joe Flacco, and now Brandon Allen. I may not be an NFL GM, but I'm pretty sure starting six different QBs in five years is not a recipe for sustained success.
Anyways, the TV cameras will find their way pointed to Elway in the luxury box after a Josh Allen strike. The former Bronco great will appear to be having an aneurysm as he holds back rage.
Week 12 Confidence Index: 8.5/10 broken folding tables