The Underhill Report: Outrageous Patriots Week Predictions
That's right. It's not just week 16 predictions. It's Patriots week predictions. Listen… it just means more. Division rivals, the NFL's baseline for success in the 21st century, and arguably the country's most hated franchise in all of sports.
How does Bills Mafia get more primed for this one? I don't know because I'm pretty sure we've hit the apex of our excitement. Clinching the postseason in prime-time on Sunday Night Football … it doesn't get better than that. To get a sense of the euphoria in Buffalo, the Albright-Knox (Buffalo's public art gallery) just hung a blurry Josh Allen selfie with fans on display. Seriously. Take a look: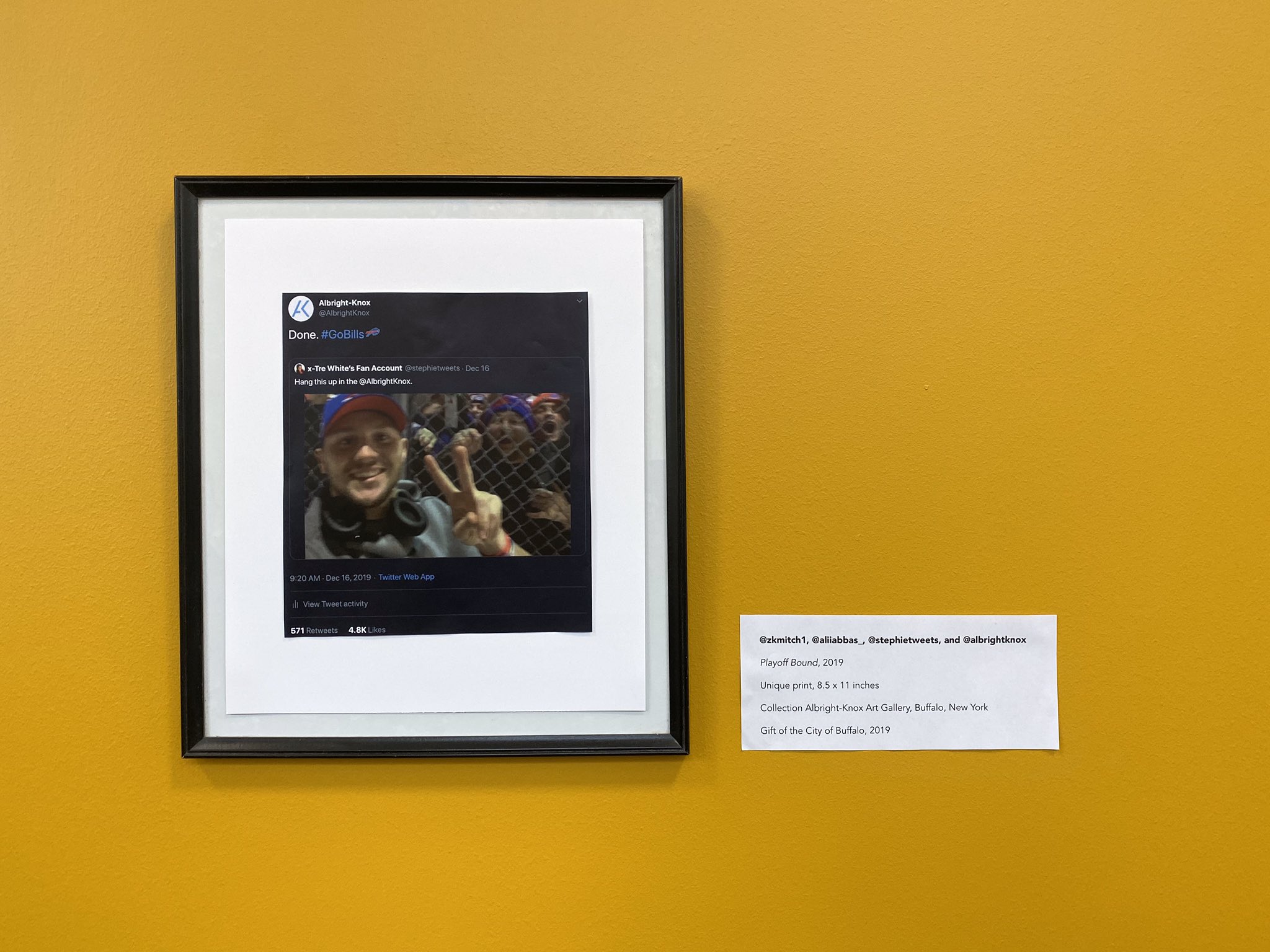 How did this masterpiece get there? Just one fan's suggestion on twitter.
It's been said about 10 times already this season. "This is the most important game for the Buffalo Bills in the last twenty years." It's been true every single time, and this week is no different.
Without further ado, let's get to my weird, wacky, and bold predictions for Saturday's afternoon affair in Foxboro.
With multiple chips on his shoulder, Ed Oliver balls out for multi-sack day.
Never forget when Ed Oliver showed up in front of the media with a shirt with the word "chip" printed on the shoulder. That's a football guy if I've ever seen one.
Well, my guy, Eddy O is gonna take it up a notch this week. I expect the rookie to be seen in warmups rocking Bills apparel customized to have the word "chip" on BOTH shoulders. That's the type of mental commitment that will help the defensive lineman harass Brady all game long. Better yet, maybe have the plural "chips" printed. Your choice Ed as long as you bring your A-game Saturday.
Sean McDermott takes over as Bills head of security for the week, plans potential bust of Patriots staffers
If anyone surrounding the Bills organization is going to be on edge this week, it will be Sean McDermott.
He's an old school, by-the-book, tough-nosed class act. I got a feeling there's nothing McDermott despises more than a cheater. Remember how he reacted week 4 when he saw New England staffers on the field when pregame warmups were ending?
Our head ball coach will take the bull by the horns and investigate the Patriots himself this weekend. He's probably preparing his "gotcha" speech in the mirror every night. In the middle of the second quarter, McDermott will disappear from the sideline as he makes his way through Gillette stadium. He'll make a quick change of outfits into a security guard costume and barge into a Patriots staff office hoping to catch New England in the midst of some illegal activity.
It'll then be a scene straight out of scooby-doo. "Mr. McDermott! I would've gotten away with it too! If it weren't for you meddling Bills!"
Steve Belichick revealed to be direct clone of "father" Bill Belichick
I first was introduced to Patriots' Safeties Coach, Stephen Belichick, when a viral clip of him surfaced a couple of weeks ago. I don't think I've ever been more unnerved and frightened by a coach before.
As far as I'm concerned, this video provides direct evidence in a court of law that Bill Belichick is the subject of the world's first human clone. This man is a carbon copy of the Patriot's head coach. No one can be entirely sure if he's in his mid-twenties or late-fifties either.
This is yet more evidence to suggest that Belichick will do anything to keep New England's dynasty alive, even cloning himself so when his body gets too old and feeble, he can surgically transfer his heart and brain to Steve's body. Just another way Bill finds loopholes in the NFL rules. Despicable!
Tre White picks up where he left off. How about two more picks on the afternoon to take the league's lead in interceptions?
It feels like ages ago when Buffalo's defense took the field at New Era against New England. They made Tom Brady look like a rookie backup scared of the bright lights at Orchard Park. Well, believe it or not, New England's offense has taken a step back from that point. Coming off two straight losses to the Texans and Chiefs, the Patriots timed the whole "us vs. the world" story-line perfectly. The Pats-Bengals sideline tape scandal broke during the week New England needed the extra motivation the most. Sure enough, Belichick's team responded with a commanding 34-13 victory over the league's worst team.
Anyways, don't let the Cincinnati result fool you. The Patriots have been playing bad offensive football lately. So it's awfully unlucky for them to run into Sean McDermott's group. Tre'Davious White should eat if Brady decides to attack him. The Patriots would be smart to avoid him, but I predict New England won't have a choice. Down early, the Patriots will be forced to throw the ball downfield.
Let me be the first to say it. Have a day, Tre!
Patriots week confidence index: 9/10 broken folding tables
Maxwell Underhill is a contributor for The Buffalo Fanatics and member of the three-time Marconi award-winning college radio station 88.7 WRHU Radio Hofstra University. To contact him, email him at munderhill18@marianapolis.org or on Twitter @cincodemaxo