The Thursday Thought: The Buffalo Bills Should Cut Pat DiMarco
Welcome to the first ever "Thursday Thought", where I will share a bold statement and explain my thoughts as to why I have this opinion. Most importantly, I want you the readers to be able to share your own opinions (if you agree or disagree) in the comment section below. I am excited to begin this style of article writing, so let's get started with the opening kickoff…
When the Buffalo Bills signed fullback Pat DiMarco to a four-year $8.4 million-dollar deal during the 2017 offseason, they expected to get an elite run blocking and pass catching player in the offense. However, his grades from Pro Football Focus suggest otherwise, DiMarco's latest grade was a 56.5 in 2018.
After having a completely nonexistent running game a season ago, Brandon Beane made a huge effort to improve this for 2019. One of these moves was signing blocking tight end Lee Smith. The reason I bring up Lee Smith in particular is because he and Pat DiMarco share a very similar skillset. The inspiration for this idea came when I was watching a highlight reel for Lee Smith on Twitter. I noticed on several occasions that the Raiders lined Smith up as a fullback. This led me to the realization: The Bills should do the same with Smith and let DiMarco go.
This move has nothing to do with the money invested in DiMarco. In fact, according to Spotrac, cutting DiMarco would save the Bills $1.15 million, while cutting Lee Smith would result in $4.4 million in dead cap space. Cutting DiMarco actually saves the Bills very little cap room. Now some might be saying, "Well DiMarco was a captain last year and would be a huge loss of a veteran presence, so, why would you cut him?" Although this is a good point, let's not forget that one of the first things Sean McDermott said about Lee Smith was how good of a leader and veteran he is.
Smith is also credited with being a real quality run blocker, which is what DiMarco was before his time in Buffalo began. However, due to the decline in DiMarco's blocking why not look for someone who is a potential upgrade? Especially consdider that according to Pro Football Focus, Smith posted the highest grade for any player on the Raiders Offense in 2018.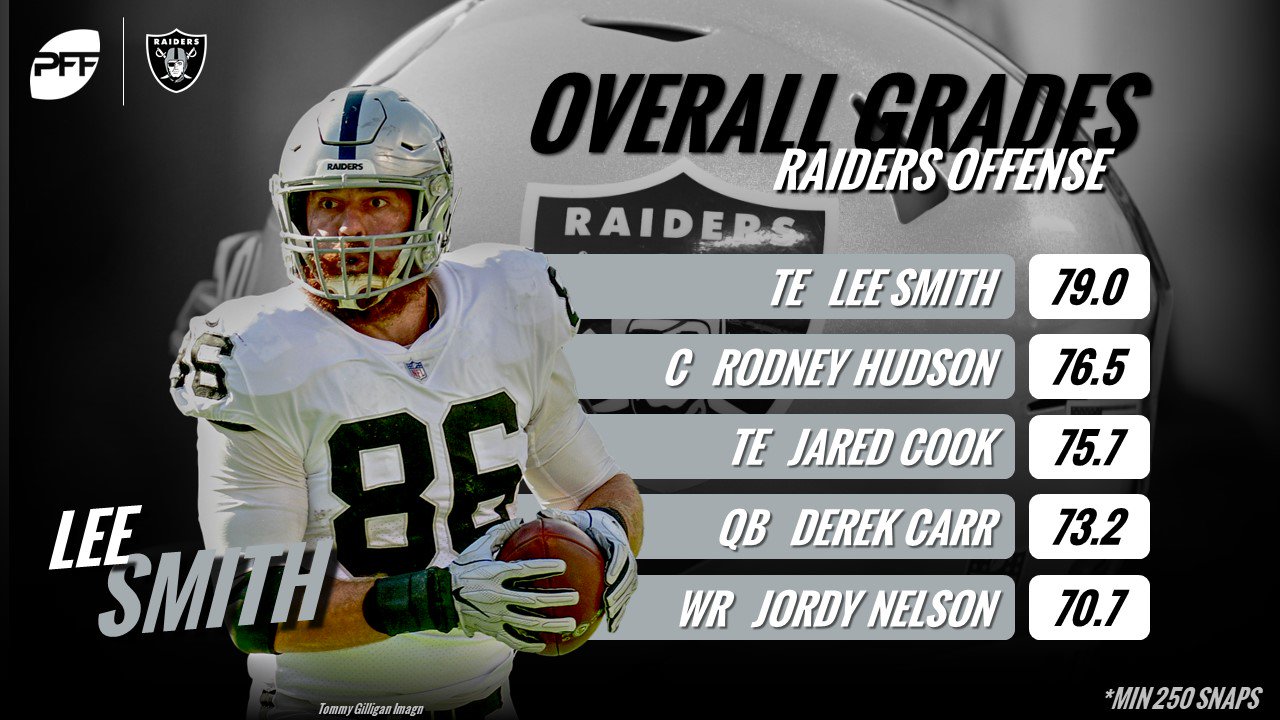 Another reason why this would make sense for the Bills is that it was clear in 2018 that DiMarco's role in the offense diminished. In a Buffalo News article by Mark Gaughan about DiMarco's decreased role, it was noted that DiMarco played nearly 100 fewer snaps in 2018 that he did in 2017. This most likely came from all of the following: the coaches losing confidence in the fullback, leaning more towards empty sets, and running the ball with more tight end heavy sets. One thing was clear, DiMarco's role and the role of a fullback in this offense, decreased significantly, especially towards the end of the 2018 season.
To further this point, there are a few things that Sean McDermott and Brandon Beane value; one of them being versatility, and Lee Smith is a more versatile player than Pat DiMarco. Smith can line up at both tight end and fullback, while DiMarco only lines up at fullback. There is simply more flexibility for the offense when Lee Smith is in the game.
Additionally, despite the fact that DiMarco was a marquis special teams player for the Bills over the past two seasons, they also added several other players who specialize in special teams like Maurice Alexander, Senoris Perry, and Andre Roberts. The Bills special teams last season was a disaster and has had a lot of turnover this offseason. Meaning DiMarco as a special teams player is by no means a lock either.
The last and most important reason why I think the Bills should cut Pat DiMarco comes down to roster spots. DiMarco potentially takes a roster spot from a player who the Bills could really use. Whether the Bills keep a guy like Senoris Perry or T.J. Yeldon, or keep an extra safety like sixith round pick Jaqoun Johnson, DiMarco is just not needed, especially if Lee Smith is on the roster (which he presumably is considering he just signed a three-year deal with the team).
The two areas in which DiMarco plays a large role in (the run game and special teams) were weak links for the Bills throughout the 2018 season. If I were in charge of personal decisions, I would not even hesitate and cut Pat DiMarco. So, should the Bills cut Pat DiMarco? Agree or disagree? Let me know on Twitter or in the comments below.

Mitch Broder is a contributor for the Buffalo Fanatics. To contact him, email him at mitchell.broder@gmail.com or on Twitter @mitchell_broder