The Buffalo Bills Bumpy QB Road to Josh Allen
Although it could be argued by some fans and experts, the Bills likely have their quarterback of the future with Josh Allen. However, even with this security, it's hard to find comfort due to the history of Bills signal-callers. In this article, I'll be going over guys that played roughly a full season with the team. This could be seen as torture, but for me at least, it makes me feel much more grateful for today.
Additionally, I wanted to say that I will only be covering players whom I remember from a kid. This is mainly because guys like Rob Johnson and Drew Bledsoe played before I was born. So, this is going to feature my thoughts on all relevant quarterbacks that came before Josh that molded my fandom. So, without further ado, here's either something you can laugh at or cry at due to nostalgia.
J.P. Losman
We start off this with who I believe to be the most ineffective in his tenure, Mr. Losman. Posting a 10-23 record, he was far from the face of the franchise. Admittedly, however, he was one of the first jerseys I had as a kid. It's hard for me to remember specifics, being that I was a toddler, but JP never really made an impression on me. With just 148 yards per game on average, he's definitely one you wish to regret.
He never really did too much after his five-year stint in Buffalo, serving as a backup for both Miami and Oakland. However, as he was working with Clemson a year ago, there were rumors that he would make a return to the league. Obviously, that would never happen in the end. However, I think, objectively, he was definitely part of the darkest period of quarterbacks in the drought.
Trent Edwards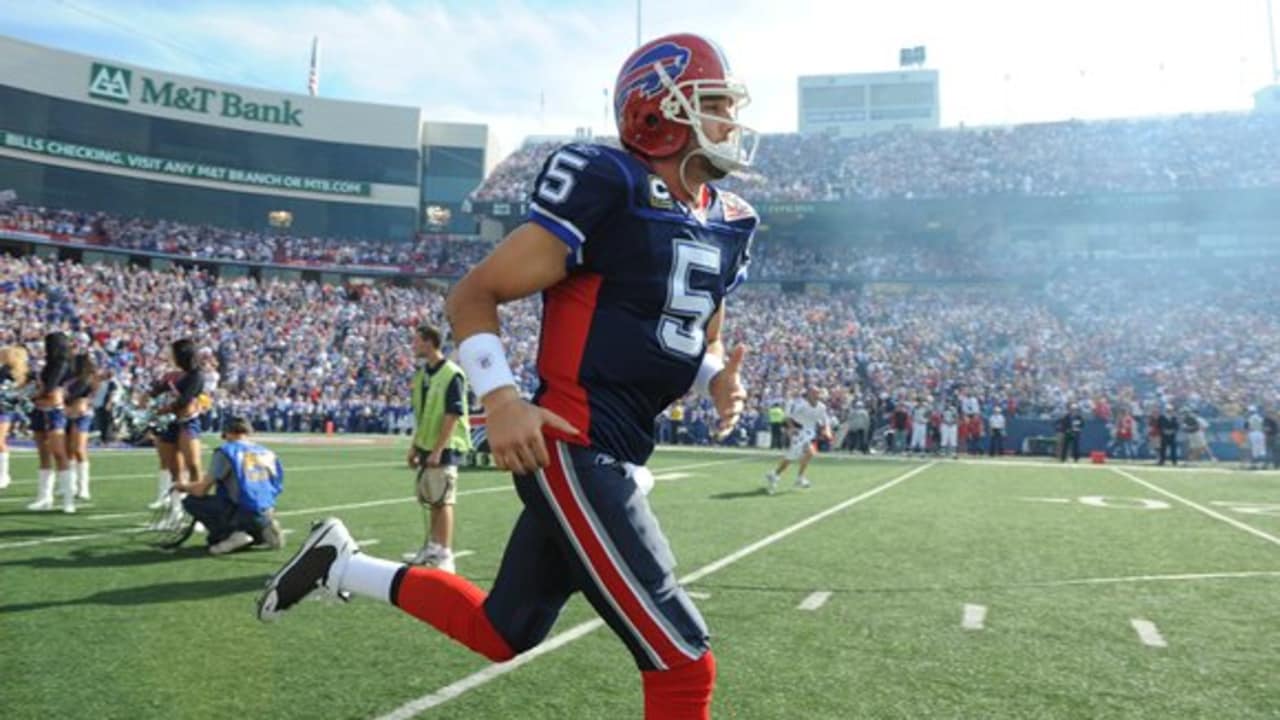 If we're being honest, Captain Checkdown wasn't too awful of a player for the Bills. In my early life, I definitely do remember being a big fan of his, especially in 2008. This was where my fandom truly began to sprout, and that can be contributed to Edwards. We weren't anywhere near a playoff contender, but his three comebacks that year really helped his case. But obviously, with a nickname like Captain Checkdown, you're not necessarily going to be remembered by all.
He would play for four seasons with a 14-18 record before ultimately being released. He would prove to be something of a journeyman, bouncing from the Raiders, Eagles, Bears, and Jaguars.
Ryan Fitzpatrick
By far, for me at least, my favorite during the drought had to be Fitzmagic. From 2009-2012, he was the most entertaining to root for and watch. The Amish Rifle led Bills never had an amazing record, which is telling of his 20-33 record, but there's just something about him that gravitated fans.
He was never the sexiest to watch, but he was definitely exciting. Fitzpatrick was the answer if you asked younger me, given the weapons he had and his likable personality. Unfortunately, even after a contract extension, Fitz would continue his bouncing around the league. Since, he has played for a total of eight different teams, most recently with the Dolphins where we'll see him for another two games.
EJ Manuel
This is the most interesting quarterback on this list for me by far. EJ did start off with high expectations, being the only first-round quarterback in his class. I was never really too sold on him, but still held out hope. Coming from an amazing college program like Florida State was in the past 10 years, EJ looked viable.
I wouldn't necessarily have called him an outright bust, as his numbers weren't especially bad. His 6-11 record only shows so much, as he had a positive touchdown:interception ratio and a little under 200 yards a game. EJ would go to play for the Raiders and start only once, before ultimately retiring after being a backup in Kansas City.
Tyrod Taylor
The most electric man on this list, T-Mobile would come up with the most success on the list, especially due to the fact that he would end the drought. He (and Kyle Orton) is the only quarterback during the drought to help the Bills to a winning record in my lifetime, which just adds to my love for him.
Making the Pro Bowl his first season really showed what he was capable of doing, and he continued to produce well during his tenure. With over 10,000 total yards, Tyrod was a great guy to watch but had his share of downsides. He was critiqued on his lack of downfield ability in some cases and that he never took enough risks.
I think though Taylor is a solid quarterback. That's all he is, solid. He's a great option as a bridge, which is what he's doing currently in Los Angeles. I have nothing for respect for the man who helped us out of the drought, and you won't see any Tyrod hate from me. But, moving onto Josh is currently the best option One Bills Drive could've taken.