Free Agency Roundup: Daryl Williams
After a bounce-back 2020 season, Daryl Williams deserves to earn a big pay check. But will it be from Brandon Beane and the Bills?
Finally, a football subject that's right in my wheelhouse: the offensive line. And there's no better way to kick it off than with one of my favorite players from last season: Daryl Williams.
Williams joined the long list of ex-Carolina Panthers to play for Sean McDermott and Brandon Beane in Buffalo last off-season. He exceeded all expectations this year, solidifying himself as a vital member of the offense. Now, he enters the 2021 off-season poised to cash in.
But what does that mean for the Bills? A mix of good and bad. First, the good: the Bills made the AFC Championship last season and are clearly on an upward trajectory. This means there's a decent chance Williams stays here, with a legitimate contender. But here's the bad – which should come as no surprise: Williams' stellar performance in 2020 means he's going to demand, and likely get, a lot of money in 2021 and beyond.
My take: If Williams wants to come back, then by all means re-sign him because this offense isn't the same without him.
But let's take a closer look.
The Obvious: Performance (at Right Tackle)
The Bills first had an interest in Williams in 2019 but chose not to sign him at that time because they used their cap space that year for Mitch Morse. Williams ended up re-signing with Carolina on a one-year deal and played everywhere but right tackle. A horrible mistake for both sides as injuries and poor play sent Williams' value plummeting. He fell under the radar in 2020 and, ultimately, landing right into Buffalo's lap on a one-year, $2.25 million deal.
Knowing him well from their time in Carolina, the coaching staff promptly moved Williams back to his right tackle position during week one against the New York Jets. Williams rewarded their faith with a return to 2017 form, the year he was named Second-team All-Pro. Williams anchored the right side of one of the best pass-protecting units in the league, allowing just three sacks in 19 games in 2020. He absolutely dominated against big names like T.J. Watt, who only had one tackle in the Sunday Night Football matchup.
He was essential to the success of Brian Daboll's offense, both in the pass and run games. If the Bills want to keep that momentum rolling, Williams needs to be a part of it.
Average Annual Value (AAV)
Unlike 2020, Williams has a defined role at right tackle. Also, given his performance last season, Williams will be paid like a top right tackle wherever he goes.
According to Spotrac, Williams' projected AAV will be in the $7.8 million range; a $5.55 million pay raise over his 2020 salary. That might be a little out of reach for the Bills. However, given the many rumored roster cuts and restructures, it's still in the ballpark for Beane & Co. Look for a deal anywhere in the three-to-four-year, $30 million deal for Williams.
$30 million? For one solid year of football? Believe it or not, it makes more sense than you might think. He's played well in the past (when not injured), he's a young veteran at only 28 and he's shown consistent improvement game after game. So yes, Williams definitely deserves this contract – wherever he signs.
However, if Williams were to re-sign with Buffalo, it means that the man who played right next to him, Jon Feliciano, would most likely be on his way out.
The Case for Daryl Williams over Jon Feliciano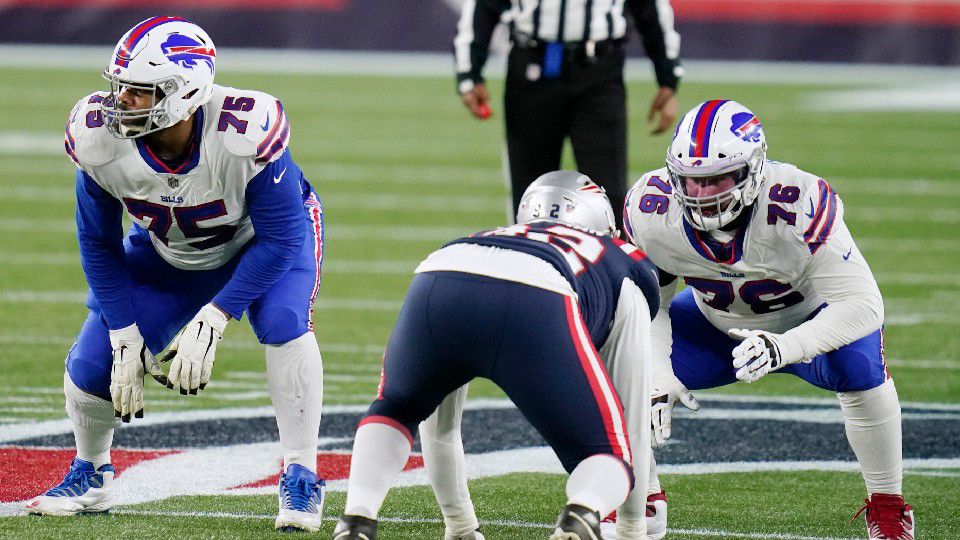 Jon "Mongo" Feliciano has been nothing but a pleasant surprise for this Bills team after signing in 2019. Both him and Williams will be free agents and as much as everyone wants both of them back, it's likely to be one or the other, but not both.
For starters, the tackle is much more of an important position than the guard. It pains me to say that. But in a league that's dominated by powerful edge rushers, you need to make sure that the guys anchoring the outside can handle the pressure of their roles.
In free agency, there are multiple guards that can fill the void for Feliciano. Gabe Jackson is one name to watch. Jackson was recently released from the Las Vegas Raiders and is becoming a popular option among Bills fans. Also, signing a guard in free agency would be much cheaper; the average guard makes significantly less than the average tackle.
The draft is also filled with interior linemen who share the same versatility that Feliciano brings at guard and center. Senior Bowl and D3-standout Quinn Meinerz, National Champion Landon Dickerson, and two-time All-American Wyatt Davis could all easily fill the void left by Feliciano within the first three rounds.
On top of that, Feliciano quietly made it known on Twitter that he's more of a center than a guard. He did prove himself to be a solid replacement for Morse. However, since he restructured his contract, Morse isn't going anywhere.
Buffalo's offense got a kick when Feliciano returned from injury Week Eight against the New England Patriots but, believe me, as long as it isn't Brian Winters, the offense will operate like usual. And call me crazy, but Ike Boettger did a fine job at guard last season taking over for Winters and Cody Ford.
Overall
Daryl Williams is a player the Bills must try to re-sign this year in free agency. I've been arguing for his payday ever since the Steelers game and nothing has made me change that belief one iota . Together with Dion Dawkins – locked up for the next four seasons – Josh Allen will have more than enough time to build upon last season's AFC Championship run.
Stay or Go: Stay.
What Will Probably Happen: Williams or Feliciano will re-sign with a three-year deal.
Disagree with what I said? Tweet at me! @RubinsteinPete on Twitter.
Sources:
Contract and cap numbers courtesy of Spotrac and Over The Cap.
AAV numbers courtesy of Bills Wire/USA Today
Stats courtesy of Pro Football Focus