Buffalo Bills Off-Season Report Card: Offense
It's been a busy offseason for the NFL. Let's take a look at how well Brandon Beane continued to build his resume.
This off-season has been quite entertaining for the Buffalo Bills. We've seen major re-signings, somewhat surprising cuts, and some interesting acquisitions. All while dealing with very little room to maneuver under the salary cap. General manager Brandon Beane has worked his magic and made moves that many thought impossible at the end of last season.
With these great moves, the Bills have been able to build up their team's strongest unit. While they continue to improve, this offense is looking even better than they were last season. Let's take a look at what Beane & Co. have accomplished so far.
Mitch Morse: Contract Restructure
Center Mitch Morse signed a four year, $44 million contract in 2019. This year, he was set to make over $7 million. But Beane artfully convinced Morse to agree to a $3 million salary reduction, saving the Bills even more money than they expected.
Morse has done an amazing job at center during his time in Buffalo. He came to a center-needy team after a horrific performance by the offensive line in 2018, and since then has become one of the NFL's best pass blocking centers.
Even before the official kick-off of the off-season, Bills fans were calling for Morse's release to ensure the team would have available funds to re-sign Matt Milano. Fortunately, Beane does not appear to  follow the judgment of Twitter users. The Bills still would have owed him a lot of money, around $26 million, and it's not that easy to replace one of your key linemen.
Morse does have a scary concussion history, which is fairly concerning. But the longer he is here, the better. The offense just isn't the same without #60 in the middle of the line. Both sides won this move and this led to the Bills being able to do what they did.
Grade: A
John Brown: Released (Signed with Raiders)
This move was a tough pill to swallow. John Brown has been a fan favorite ever since he became Josh Allen's first WR1. However, Brown caught the injury bug and only played in a handful of games in 2020. On top of that, with the trade for Stefon Diggs, the emergence of Gabriel Davis, and the lack of cap space, all signs pointed to Brown heading out of Buffalo.
Listen, as a fan, I would rather have Brown than the newly added Emmanuel Sanders. But it's too late now and without his release, at least one of Milano, Daryl Williams, and Jon Feliciano wouldn't be back. But I'm a reasonable fan. I knew it was unlikely that the Bills were going to sign J.J. Watt, I knew that the Eagles wouldn't hand over Zach Ertz, and pretty much any other big-named elite player rumored to come to Buffalo realistically wasn't going to happen this season. So Brown had to go eventually. And now was the time.
Brown's release saved the Bills a total of $7.93 million, and ultimately saved their off-season. It hurts to see "Smoke" flame out, but the Bills likely wouldn't have had nearly as much spending money without this move.
Grade: A- (Believe me, it was painful to grade this)
Daryl Williams: Extension (Three Years, $24 Million)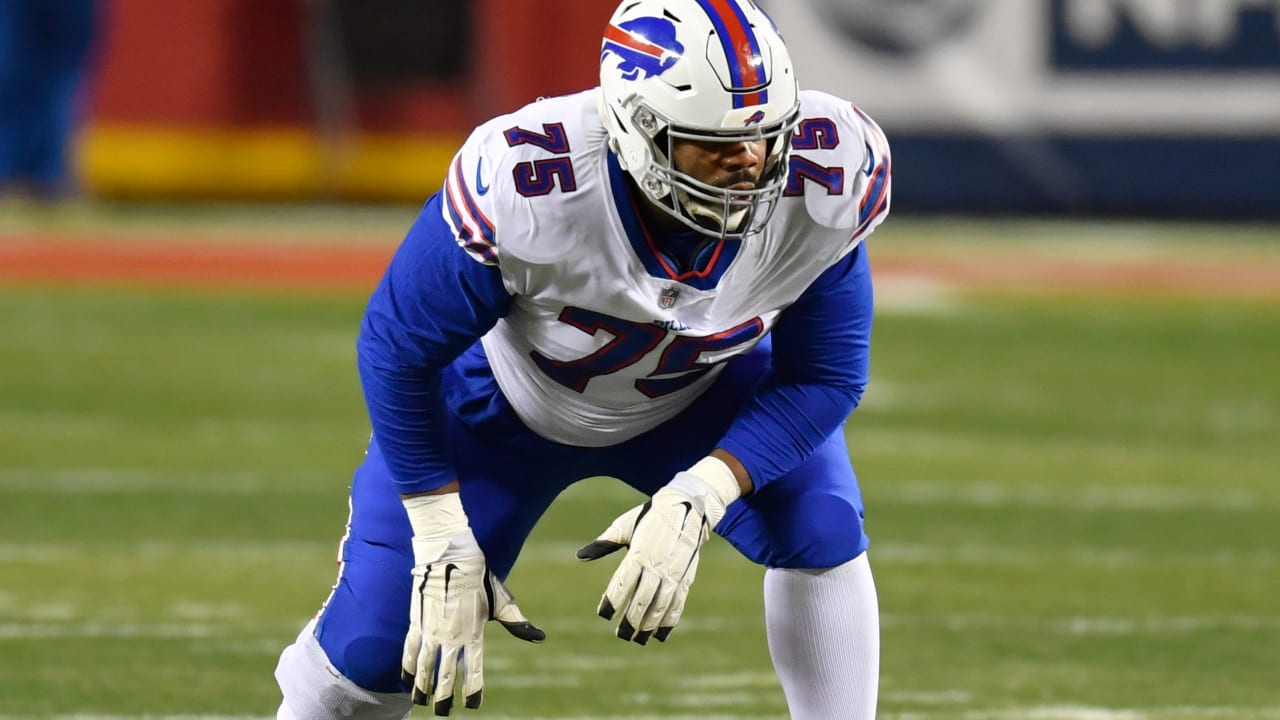 Not much to say here. Re-signing Daryl Williams was huge for the Bills, period. I've argued all season that the front office needed to lock up their stud right tackle because of his stellar performance all season long. So I'm glad to see Beane reads my articles. With a projected AAV of around $8 million and a three year term, including a third-year opt-out, this deal was in the right ballpark and works well for both sides. William gets to continue reshaping his career and helping the offense do their thing, and the Bills got their guy anchoring the right side of the line for at least another two years.
Grade: A+
Free Agency Roundup: Daryl Williams
Jon Feliciano: Extension (Three Years, $17 Million)
When the news broke that Jon "Mongo" Feliciano re-signed with the Bills, I was surprised and thrilled at the same time. Yes, he wanted to stay. And yes, I definitely wanted him back. But I was confused as to how they managed to keep him after re-signing both Williams and Milano. But I quickly realized two things: (1) Brandon Beane is a great GM, and (2) he pulled off the deal of the off-season by keeping Mongo in a Bills uniform on an exceptionally team-friendly contract.
Feliciano's deal of $14.4 million over three years with only $2.25 million guaranteed is a steal. The versatile offensive lineman is making roughly a little over $4.8 million a year, not quite half of his projected AAV. Even at this low rate, however, this deal was not one-sided. Feliciano wanted to be in Buffalo, and only in Buffalo. He even credited BBB with getting a deal done the other day:
"It was definitely not a fun free agency, they didn't know what was gonna happen but luckily we've got triple B over there Big Baller Beane knowing what to do so thank god for Beane, huh?"

Jon feliciano over zoom
More importantly, the Bills are keeping another key offensive lineman from last season who helped rejuvenate the offense upon his return. With a jack of all trades like Feliciano, Coach Sean McDermott will have multiple options for the next two or so years. All in all, I could not be more pleased that Feliciano is back to help JA17.
Grade: A-
Bills Re-sign Jon Feliciano: Good or Bad?
Isaiah McKenzie: Extension (One Year, $1.15 Million)
Beane's most recent move to help the offense was the re-signing of Mr. Do-It-All Isaiah McKenzie to a one-year deal. This move brought joy and delight to fans all across social media, who were begging for this fan favorite to return.
McKenzie is a utility man for the Bills, playing everywhere: wide receiver, slot receiver, running back, quarterback, and even cornerback for Coach McDermott. Now, with Andre Roberts gone, McKenzie is set to take over the return duties for the Bills; an even bigger role than he was in last season.
And he's not just coming back: McKenzie's deal is likewise team-friendly, with a salary of just over $1 million for one season. He even admitted he would've been fine if he was "paid in candy."
The way he'll be used next season, the Bills front office definitely got the upper hand with this one, but McKenzie seems to be okay with it:
Another year of McKenzie for much less money than he's worth? Sign me up.
Grade: A+
Free Agency Roundup: Isaiah McKenzie
Emmanuel Sanders: FA Signing (One Year, $6 Million)
The Bills were not expected to do much in free agency this off-season, let alone bringing in new faces to the organization. But once again, Beane wowed us. Veteran wide receiver Emmanuel Sanders agreed to terms with the Bills before he was *legally* a free agent. He had plans to do so last season before Stefon Diggs was shipped up to Buffalo, but ended up making the move a year later.
By all means, I do not hate this move. A cheap deal for an above average seasoned vet who performed well last season with two different quarterbacks and a Taysom Hill? What's to get upset about? He may not have John Brown's tight bond with QB1 (yet), but Sanders will nevertheless serve as a great #4 option for Allen.
I'm awarding bonus points now that he's become a "bleu cheese with wings" kinda guy. 
Grade: B
Bills Set to Sign Emmanuel Sanders
Mitch Trubisky: FA Signing (One Year, $2.5 Million)
There's a very small chance that I was the only one surprised by this move. But just because I was surprised, doesn't mean I did not like it.
Back in January, I wrote that it was "unlikely" that the Bills would re-sign Matt Barkley. Although I loved what he brought to Buffalo and how much he meant to the fans, I argued that it was time to move on. Guess I was right, but I did not expect the Bills to bring in someone else.
We all know Mitch Trubisky as the guy the Chicago Bears drafted over Patrick Mahomes back in 2017. People seem to forget that the Bills traded their #10 pick to the Kansas City Chiefs that year, so I'm genuinely okay with it.
We also know that Trubisky has had his fair-share of issues in Chicago, but let's not forget his 2018 season, where he went to the Pro Bowl and helped lead his team to the playoffs. Also, he is the first NVP Award winner in NFL History. His talent is there. But that's not why he's here. Trubisky is here to serve as a backup, help out the offense if needed, and to jump-start his career. If it works out, Trubisky could potentially net the Bills a future compensatory pick.
Having solid depth at any position is a huge plus regardless of how good the starter is. If Josh Allen were to ever go down – and I pray every night that he never does – I would rather have Trubisky behind him more than Barkley, Jake Fromm, or Davis Webb.
Shout-out to BF contributor Zach Vaughn (@zvaughn2712 on Twitter) for nailing this one.
Grade: B
Jacob Hollister: FA Signing (One Year, $1.27 Million)
Tight end was a need this off-season in a market that was loaded until Bill Belichick opened his checkbook. Jacob Hollister, an under appreciated member of the Seattle Seahawks' offense, is a solid and underrated move made by Big Baller Beane. He's a great goal-line tight end and has good hands, something that Bills tight ends don't necessarily posses.
For those who don't know, Hollister played at Wyoming with none other than our quarterback Josh Allen. In their only season together as full-time starters, Allen connected with Hollister 32 times for 515 yards and 7 scores. The connection is there and building those strong connections with your quarterback is a must for any successful organization. As we saw last year, it was key that Stefon Diggs and Josh got off on the right foot from the get-go. With this acquisition, Beane filled an important need for the team, while bringing in a guy who knows our QB like a brother.
Is he Zach Ertz? No. Is he a top tight end in the league? No. Does he have a strong bond with Josh Allen after playing together in college? Yes. Does he have six touchdowns in the past two seasons? Also yes. He may not be TE1 come Week 1, but he will provide solid depth and could potentially be that guy.
Another shout-out to Zach for nailing this one too.
Grade: B+
Ike Boettger: RFA Tender Exercised
As an offensive line guy, I love all of the big men up front. (Except for Brian Winters.) But if there was one guy who stood out to me last season, it was Ike Boettger. Boettger came into the starting rotation around Week 7 after Cody Ford went down for the season and stayed in over Winters the rest of the way.
After playing in three games from 2018 to 2019, Boettger played in 12 (starting seven of those), and also started all three of the Bills' playoff games. For the most part his play was solid, if not surprising. But, most importantly, he got the job done. The offense moved better with him on the line, Josh had more time in the pocket, and he earned the trust of the coaches as an unselfish player.
"Ike is a tough dude. He comes from a real solid program at Iowa. We just really appreciate the way he's worked since he's gotten here. He hasn't always been the starter. He's been on the bubble. He continues to just come to work everyday with a great attitude and a desire to improve his game. I think he's probably one of the most well-liked guys on our team because of those unselfish qualities."

Coach sean mcdermott
Having Boettger back doesn't mean he's going to be in the starting five; in fact, he probably won't be. But, as with Trubisky, having solid depth never hurt anybody. Bills fans should be more than happy that #65 is back in the red, white, and Bills' blue.
Grade: A-
Andre Roberts: Let Walk (Signed with Texans)
It always hurts to lose an All-Pro at any position. Andre Roberts is one of the best returners in all of football and he proved it the past two seasons in Buffalo. With that, I still think it was time to let him walk.
But Roberts made two Pro Bowls and All-Pro teams in Buffalo. Why would I want him gone? 
If this were any other season, no question I would want Roberts to stay. But in a scenario with so little cap space, some other variables weigh more heavily against keeping him. First off, at 33 years old, Roberts is the equivalent of a senior citizen, especially for an NFL kick returner.
But the comparison to Isaiah McKenize is more important. Not only is McKenzie capable of returning kicks and punts like Roberts himself, he's a much more versatile player. McKenzie is much more of a factor on offense, which was not part of Roberts' role or resume. And wouldn't you rather have a guy who can do all of those things, plus return punts and kicks, for more than $4 million less? Any sane fan would say yes.
Grade: B
Free Agency Roundup: Andre Roberts
Brian Winters: Let Walk (Signed with Cardinals)
You get the idea.
Grade: A+
Tyler Kroft: Let Walk (Signed with Jets)
This was an expected move. The injury-plagued Tyler Kroft stays in the division by signing with the New Jersey Jets on a one-year deal, two-years into his original three-year deal.
I really hate how things unfolded for Kroft in Buffalo. I had high hopes for him and thought he would be a solution at tight end for the next few years. At this point, however, given how infrequently he saw the field and how often he became a liability for this offense, it made sense to let him leave. 
He still has a few years left in him, and there's a part of me that is rooting for him. But now we get to see him twice a year in puke green.
Grade: B
Ty Nsehke: Let Walk (Signed with Cowboys)
Journeyman swing tackle Ty Nsekhe saw his role steadily shrink this season compared to 2019, thanks to the acquisition of big #75 Daryl Williams. The Texas State alum saw very few snaps and only came in if Williams or Dion Dawkins went down.
I did not expect the Bills to re-sign him. If they had, it would probably be in the role he played last year as a backup/reserve tackle who could play both sides. However, with a younger, more versatile, and slightly cheaper option in Ryan Bates, Nsekhe heads down south closer to Texas State to play for Mike McCarthy's Dallas Cowboys.
Grade: B
Taiwan Jones: Extension (One Year, $1.75 Million)
This move came as a bit of a surprise, but again, unopposed. Taiwan Jones has been an underappreciated player for the Bills, especially on special teams. He's made some key plays for the one-third of the game that nobody ever talks about.
His deal, which was not unexpected as discussed in his free agency report (grouped with T.J. Yeldon), is team-friendly. No, he doesn't contribute much on offense, and when he does it's not much. However, having Jones back for another season doesn't hurt anybody.
Grade: C+
Remaining Free Agents
Overview
To say I'm impressed by what the Bills have done on both sides of the ball in the 2021 off-season would be a complete and utter understatement. Brandon Beane seems to have pulled off the impossible, doing so much with so little.
It hurts to see guys like John Brown go, especially considering what he provided this team. But in Buffalo – as it should be everywhere in the NFL – it's about the team. His release was unfortunately expected and without it, this team would not be in the shape it is in right now.
With Buffalo's free agency spending most likely coming to a close after the team signed Efe Obada (shocker: another former Panther), April can't come soon enough.
Disagree with what I said? Tweet at me! @RubinsteinPete on Twitter.
Sources
Contract and cap room numbers courtesy of Spotrac and Over The Cap. 
Featured image credited to Getty Images
AAV numbers courtesy of Bills Wire/USA Today
Stats courtesy of Pro Football Focus
Images credited to rightful owners